Let us assist you in setting up a treatment schedule
for all your routine treatments – vaccinations,
dentistry, drenching etc.
Image credit Eric Lloyd photography
At Belvoir Equine Hospital we perform a variety of routine procedures including drenching, vaccination and dentistry. If you need advice on how to start a routine treatment schedule for your horse we are happy to advise.
We have the experience to advise you on what worming and vaccination protocols are suitable for your particular situation. Geriatric horses and ponies may have different requirements again regarding nutrition, dental care and specific supplementation. We can also assist in a management regime for these older equines, to cater for their needs.
Due to the high incidence of sand colic in Western Australia, we recommend that routine drenching for sand, with oil and electrolytes, be performed at least twice a year. A routine wormer may be incorporated into the drench as part of your prophylactic deworming program.
All horses have worms at some stage in their life and many will be re-infected unless they are given regular, routine worming treatment and correct management. Severe infestations can be life threatening but even lower rates of infection can cause malabsorption of the diet, loss of weight and increased incidence of colic. A worm control programme is relatively simple and inexpensive. We also offer in-house laboratory for faecal egg counts (FEC) – simply bring in a fresh manure sample which has been kept cool, to reception. Making use of FEC's helps us reduce overworming and resistance.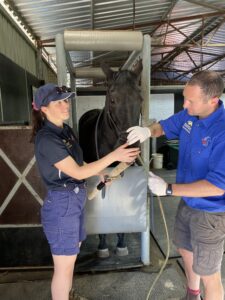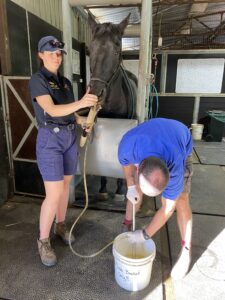 Castration is one of the most commonly preformed equine surgical procedures. Testicles usually descend into the scrotal sack by 10 months of age and management practices usually dictate gelding at 6 months-2 years old before sexual behaviour commences. Castration in a fully mature stallion is a much more serious proposition and needs careful discussion with your veterinary surgeon before it is undertaken.
The operation can be carried out at home or at the veterinary surgery. If the operation is to be performed at home:
Your vet will need some help. There must be a competent handler and ideally somebody to assist your veterinary surgeon.
Your horse will be anaesthetised and will therefore need to lie on the ground. You will need to ensure there is a danger-free area where the operation can take place.
Ideally the weather should be dry and warm and the environment should be dust and mud-free.
You need to supply several buckets of clean warm water.
Conditions need to be as sterile as possible with all the necessary equipment to hand. If you are not sure about the conditions you can provide for the operation at home, speak to your vet who will be able to advise what is best for your horse and your situation.
Before the operation your vet will need to know that your horse is in good condition, and free from any disease. It is essential that your horse has up-to-date vaccinations for tetanus. If this is not the case your vet can administer temporary protection at the time of the operation.
After the operation the horse is usually confined for 24 hours to allow the horse to recover and the surgical site to settle down. The animal should be monitored regularly during this time for complications.
Thereafter the horse will need to be exercised regularly with some periods of trotting and in-hand walking each day for up to 14 days after the operation. This will help to reduce any swelling and help the healing process. Ideally the horse should be turned out into a grass paddock. Most castration wounds heal uneventfully.
Caring for your horse's needs means providing a balanced diet, regular exercise, and a preventative health care programme that should include worming, vaccination, dental care and farriery. Register your horse with a local vet even if it is perfectly healthy, so that you will know where to go in an emergency and your vet will be able to give you advice on routine health care.
There are a number of highly infectious and, in some cases, potentially fatal diseases that can affect horses. In Western Australia vaccinations are available against herpes virus, tetanus and strangles. All horses should be vaccinated against tetanus. An initial course followed by regular boosters is essential for all vaccinations. Your veterinary surgeon can advise you further on the vaccinations suitable for your horse.
All horses registered with Equestrian Australia must be microchipped and all horses competing in official EA events must be microchipped.
Microchips are implanted intramuscularly and have been used to identify animals since the 1970's. They are considered an excellent form of animal identification as they can't be tampered with or be easily removed.
Each microchip has a unique number, which is detected using a microchip scanner. Only authorised veterinary practitioners can legally implant microchips in horses. This ensures the microchip is placed in the correct location and the required horse identification can be confirmed.
Once the horse is microchipped, our clinic will send the details of the owner, horse and microchip to the correct licensed animal registry. It is important to keep your details up to date. When your contact details change, you should inform the registry as soon as possible.  When the horse changes ownership, the new and previous owner should complete a change of ownership form available from the registry with which the horse was recorded.
The International Federation for Equestrian Sports (French: Fédération Équestre Internationale, FEI) is the international governing body of equestrian sports. The FEI headquarters are in Lausanne, Switzerland. An FEI code of conduct protects the welfare of the horses from physical abuse or doping.
Registration is required for all riders and horses competing at FEI level competition. The registration is based on the calendar year and needs to be renewed in January each year.
In order to obtain an FEI Passport or Recognition Card, the horse must be microchipped. The veterinarian who completes the diagram, description pages and implants the microchip must be approved to do so by their National Federation.
Dr Chris Gales is approved by EWA to complete the Passport/Recognition Card.